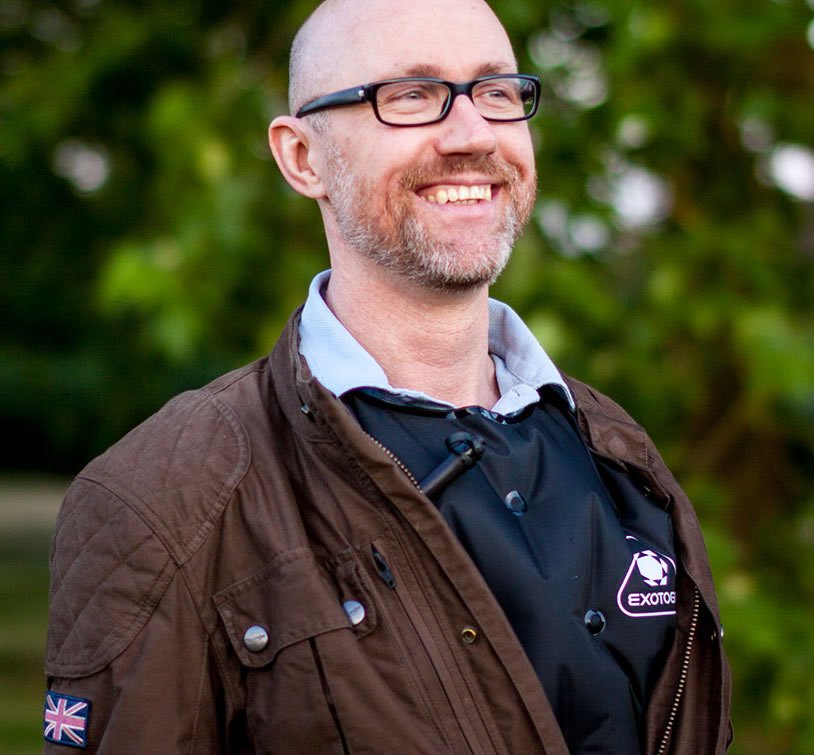 The Concept
I've been an all-season biker for the past 20+ years. As the weather and seasons change, I find it can be difficult to predict the right number of insulating layers I need to keep warm and comfortable (without overheating) on a ride.
On one ride in particular I had clearly left the house with too few layers, and a chill started to set in. I realised that I needed to fix the situation before I started shivering, so went digging around in my top box. Luckily I had been working on an inflatable tent project, and had some test pieces with me, in the shape of inflatable pillows. I shoved one of these into my jacket and lightly inflated it.
The difference was amazing! It was incredibly warm and comfortable, not only insulating but keeping out draughts too. This gave me the idea for the Exotogg inflatable bodywarmer, and I set about developing it.
The Design Thinking
Working with some impressively talented designers and engineers throughout the UK, we designed the Exotogg to be adaptable in the field; remove the Velcro side attachments and the Exotogg can be laid out flat for use as a mattress or trail seat. It will aid flotation in a pinch, and may even be useful as a splint (as yet untested, happily). I'm sure more uses will be found for this adaptable and dependable device.
Because I was developing this product for my own use, I was uncompromising in terms of quality of materials and manufacture:
The Exotogg is made from custom TPU (thermoplastic polyurethane), making it light to carry, and built to last.
It will stay fresh and clean forever as anti-bacterial and anti-microbial properties were built in.
The valve is extremely reliable – it's a marine inflation valve designed for lifejackets.
It's made in the U.K. by a trusted lifejacket manufacturer, so as you might expect, the quality is superb.
The Outcome
Now, after many prototypes, we have a robust yet lightweight product that is ready for the worst Mother Nature can throw at it.
I like to think of it as emergency equipment that's not just for emergencies; it's simply a remarkably strong, well-made piece of kit, that will provide years of reliable service.
So if you're a hiker, a biker, a caver, a cyclist, a camper, or even just a well-prepared car driver, pick up your Exotogg today!